Hoxell's Quality Operations
Hospitality Operations Digital Platform
The intuitive, state-of-the-art platform that interfaces with your PMS and digitizes and optimizes all your facility's operations, connecting all departments in real-time.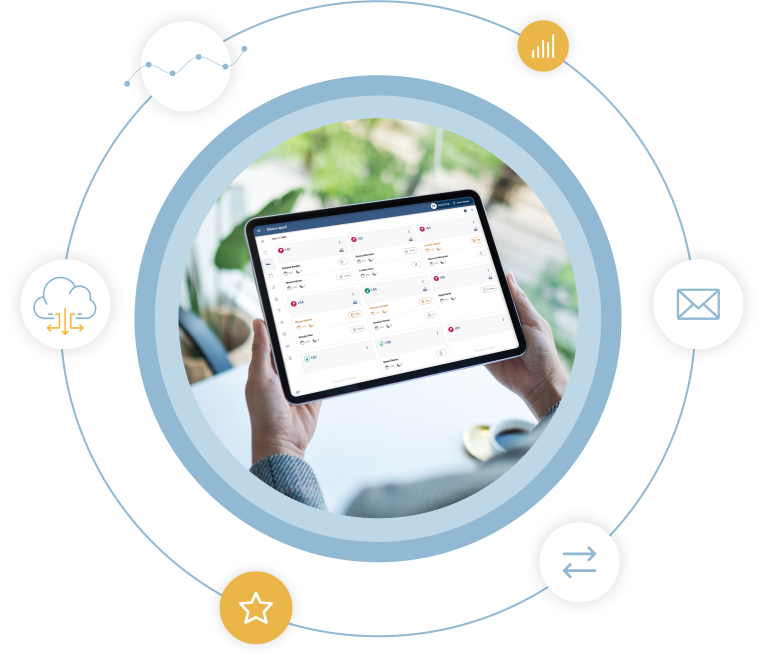 A management system created for hoteliers, by hoteliers
All the information staff needs is gathered in one place, easily accessible at any time from any device. Communication between departments has never been easier: tasks become clearer and accessible from any device, drastically reducing human error and work overload.
Customize guest services to get better reviews
Hoxell prioritizes delivering personalized services to its guests by maintaining clear and effective communication, while also embracing the opportunities for upselling and promoting greater satisfaction
Optimizes time and tasks
Clear and prioritised tasks: guest requests, repairs or other instructions are clear so that tasks are carried out promptly by the staff. Automation of processes increases efficiency and reduces administrative work
Data updated in real time
Having real time information at your disposal facilitates collaboration between colleagues, makes departments more autonomous and allows them to respond to customer requests more quickly and efficiently
Check and analyze digital reports from various departments
Hoxell's Hospitality Operations Platform offers digitized performance reports for facilities, enabling the identification of improvement opportunities and enhancing the ease of information retrieval
The Hospitality Operations Platform
that improves the operations of every
area of your facility
Management
Housekeeping
Maintenance
Front Office
Food & Beverage
More than 250 establishments chose us... and they never want to go back! Find out why.
"Hoxell in one word? Efficiency. And above all, a tool developed by hoteliers for hoteliers."
"Thanks to Hoxell, not only has coordination between departments improved, but there is also a strong sense of teamwork. It facilitates our work, providing us with the information we need, in just one click."
"Hoxell facilitates communication between departments by reducing the margin of human error. I am extremely satisfied."
Who benefits from using Hoxell?
Everyone on your staff will benefit on a daily basis
Housekeeping
Clear and prioritized communication and tasks, digital checklists that are always up-to-date and easy to follow
Maintenance
Our repair orders are meticulously organized and prioritized. Accessing all technical documentation is a breeze, making troubleshooting and repairs a seamless process
Front Office
Easy-to-find guest information and easy assignment of tasks in a transparent and digital form
F&B
All breakfast information is grouped and digitised on one page, allowing staff to take note of guest requests
Management
Clear view of the property activities in real time, and easy-to-obtain, easy-to-read and easy-to-analysed statistics
Our Hospitality Operations Platform integrates seamlessly with any PMS, updating your guests' booking details in real time.
Discover the integrations
Housekeeping
Automate, plan and monitor every cleaning task
Automates and assigns tasks
Task automation allows repetitive tasks to be performed quickly, accurately, reducing human error and improving overall efficiency of operations
Plan priorities
Managing priorities and last-minute requests is easier and less labor-intensive.
Simplify activities with digital checklists
Digital checklists can be used to standardize procedures and processes in each department
Check the status of rooms in real time
Keep track of all room statuses in real-time and reduce inspection time by automating tasks
Maintenance
Plan recurring activities, announce and organize urgent ones
Open a maintenance ticket anytime
Any employee can report a fault or technical problem in real-time with the help of photos
Plan your recurring maintenance in good time
You can create predefined maintenance schedules, set deadlines and frequency and assign them to staff
Collect documentation
With digital reports, you have the convenience of checking resolved, past, and current faults at any given time.
Front Office
Giving the right information, to the right people, at the right time
Real-time room status
No more phone calls to find out if a room is clean or inspected.
With the 2-way interface even the PMS will update automatically.
Prioritizing team activities
Achieve seamless organization of your team's work with just one simple click, ensuring that tasks are prioritized accurately and efficiently.
Adapting services to the guest
Anticipating your guests' requests will now be easier and more precise.
Lost and found
Digitise the Lost & Found process easily and paperlessly
Food and beverage
Customising the breakfast according to guests' preferences
Breakfast under control
All breakfast information is digitized on one page. Manage your guests' preferences quickly and easily.
Reduce Food Waste
Real-time counts will allow you to optimize the restocking of the breakfast buffet without unnecessary waste.
Management
Control your property in real-time
Data Collection
Effortless and all-encompassing reporting. Stay constantly informed about the data and analysis of your business operations with just a few effortless clicks.
Monitoring Costs
With the simple setup the can have cost statistics of your consumption such as linen, minibar, or any item you want to monitor.
Resource and schedule management
With the digitization of work shifts, you have the schedules of all departments under control.
Prenota l'appuntamento per la tua demo gratuita!
Scegli il giorno e l'orario che preferisci: ti mostreremo le incredibili potenzialità di Hoxell e ti faremo vedere come può rivoluzionare il modo di lavorare nella tua struttura alberghiera.
Next steps
Are you looking forward to optimizing your facility with our Hotel Operations Platform?
1
Let us assess your needs together
Once you've experienced the power of our free demo and signed on the dotted line, our team will join forces with you to carefully analyze your structure and expertly guide you through the setup process of Hoxell
2
Set the number of rooms to be managed
Not only the rooms: other spaces, such as the sauna, meeting room, and gymnasium are also manageable environments from Hoxell
3
We train the staff
We provide training to your staff on the daily utilization of Hoxell and the seamless installation of the software on various devices
4
Accompaniment and support
We are here to provide you with our expertise and support to meet all your unique needs and requirements
Book an appointment for your free demo!
We will show you the incredible potential of Hoxell and show you how it can revolutionize the way you work in your property.